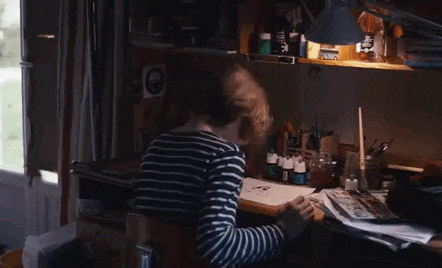 Oh hello, sorry I didn't notice you there. Don't mind me, I'm just sitting here in the corner, alternating between rocking back and forth and hitting my head against the wall repeatedly. I'm not at all academic. I was never that way inclined, even back when I was an innocent, intelligent and applied high schooler. I do like learning, I love learning new skills, and learning about all the things I'm interested in, but I don't learn from reading dense text books. I just can't. I learn by watching and doing. I learn with my hands.
Doing a degree in Creative Writing is amazing. I get to explore my creativity in so many different ways and it has really awakened a huge passion inside of me. But there are times where I doubt my abilities, and whether I am capable and worthy of being here. Those times, I want to drop out. But no matter how tough it gets, this is the one thing in my life that I am determined and fully committed to seeing all the way through. I will graduade. Even if it not with the grade that I want.
I make the grades in the creative modules without much effort really, balancing a full time student/full time employment life is tough and I don't always have the amount of time I'd like to dedicate to my creative projects, but still my grades show that I am a good writer. When it comes to the academic side though, as a mature student, out of education for over a decade, I'm struggling. Although not failing by a long shot, I also can't seem to be able to attain the level that I want to reach. Academia is my nemisis.