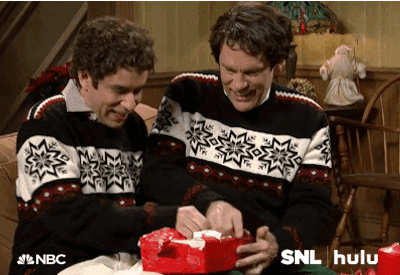 So Christmas is over. In the blink of an eye, all the stress and excitement of the big day passes and we're left admiring our gifts, binge watching TV and eating left over calories for days. I love Christmas. I love family time, I love eating Portuguese food and drinking Portuguese beverages and carrying on the Portuguese traditions of Christmas. It's the one thing about me that's still 1000% authentic. I mean, I even dream and think in English now, after eighteen years of living in England. But our Christmas, is still very much Portuguese.
This Christmas was extra special for me. I haven't always been the best daughter. Lord knows, I'm still not even close, but I'm grateful for moments like these, moments that allow me to make up for my past mistakes. Moments that allow me to show my mum and family how much I love them. Which leads me to my favourite part about Christmas, the look on people's faces when they open my gifts. I know Christmas isn't about presents and material things, but when I shop for presents I buy with the intention of making someone happy. It isn't about the materialist gift itself, but what the gift represents. The love I have for my family.
Story Time
This story begins a couple of weeks ago. One night, driving somewhere with my mum, mum driving, me aimlessly scrolling through my phone, absent minded. Mum begins to tell me about a competition hosted by a radio station: write in with a story about the toy you always had wanted as a child but never got. I laughed and asked if this was her subtle way of telling us that this year she would like a toy for Christmas. Mum laughed, but proceeded to tell me the saddest story.
As the eldest child, she had never received toys for Christmas, but instead chocolates (which she could eat in abundance all year round) and pyjamas. At the time, I found it sad, but the longer I thought about it the more it broke my heart!! I knew mum hadn't had the best or easiest childhood, in fact I believe that mum was robbed of most of her childhood, but the more I thought about her at Christmas, always asking, always hoping for this one toy, but never receiving it, the heavier my heart grew.
Enter Nancy
Nancy was a Spanish manufactured pre Barbie doll. She is much bigger than a Barbie, but pretty similar in all other aspects. Popular during my mums childhood in the 70's, she is now a collectible. And this is the "toy" that my dear mother had always wanted and hoped for as a young girl. The gift she never received.
I decided that this Christmas, my mum would finally, excitedly unwrap her very own Nancy. She deserves that. And so much more. I did a basic online search, ebay came up with a couple of second hand dolls for £5. That simply would not do. I asked around my older friends. None of which had ever heard of Nancy. Not surprising after realising she was indeed manufactured and primarily sold in Spain and Portugal.
Finally, Amazon (the deathstar, as one of my lecturers like to call it in his best creepy voice) came through for your girl. Brand new, boxed, collectible Nancy dolls. I can not tell you the immense happiness I felt making that purchase, unboxing the huge doll box, and Christmas wrapping it for my mum.
But none of that compared to the feeling of watching her unwrap it, the wide shock that spread through her eyes, or the massive smile on her face as she played with Nancy on Christmas morning, carefully changing her into a new fairy tale dress. If you've read this far, thank you for sharing this amazing Christmas moment with me. I will stop waffling on now and leave you with a couple of snaps capturing the moment perfectly.
I hope everyone has had a Christmas filled with as much love as me. R x